In our world, and in our lives, nothing is permanent. Change, as we all have experienced, is inevitable. However, while that might be the case, many of us cannot easily recognize when it is time for a change, whether it's at work, for your passion, your relationship, and even your possessions and where you live. And if they do know that change is needed, they do not easily know what to do!
Here is our guide to help you with the inevitability of change.
Symptoms
Life will give us signs and symptoms for us to recognize in order to execute change. Whenever you feel a few of these, then it is time:
Life feels uncomfortable somehow – this is a general sign that will often be the first. When we feel that we are uncomfortable despite everything we have done or are doing with our lives. This can come from anywhere and at anytime, and is usually a signal that there is a higher calling than what you are doing right now.
Feeling disconnected – tied in to #1, this happens when the mind subconsciously decides that the people you surround yourself with are not really the people your soul is meant to be with. Perhaps it is searching for more like minded and like-soled individuals, hence a calling for change.
Lack of feeling of acceptance and understanding – conversations with friends and colleagues don't turn out the same as before, and you feel like you are an outcast because of your ideas or beliefs.
No satisfaction in accomplishments – usually tied in with work or career, accomplishing bottom lines and goals don't feel the same as they used to, and in fact make you even sadder and more disappointed.
Unhappiness – everything from the things you have to the money in your bank account, whether too much or enough, isn't giving you joy anymore.
Usually when any or all of these are felt, it is the universe calling for us to change, perhaps to find our true purpose in life, or to simply have a change in mindset.
Cure
Change is rarely easy, and comfortable. However, when the steps taken are done, it can open doors and possibilities that would otherwise not be seen.
Be truthful, admit your feelings – sometimes it is difficult to accept what we feel as truth, rather than just a fleeting emotion. Accepting is the first step to open yourself up for true change.
It's not wrong to want what you want – it is important to have a roadmap for what you truly want in life. When you take this step, don't doubt, just list the things that your know deep in your heart you desire the most, not out of some superficial wanting, but because it is truly what your life is for.
Throw away the old – the old ways, the old things that don't work in your life, the old things that cause sadness and doubt, prepare to let these things go, despite being attached to them after many years.
Take the big leap – this is the most important step. To actually take the leap of faith and begin your new journey for changing for the better. Whether this is a new career move, letting go of relationships, or simply taking the plunge and totally changing, this is it.
Again, be truthful to yourself –  letting go of the old and engaging in the new without judging yourself for any mistakes you may make is important. You are in the process of recreating yourself at this point, and know that this is all part of the re-learning process of the new things you will engage in.
Stick to the path – sometimes in the process of change, you will be tempted to fall back to the old ways. Remember that you discarded them for a reason, and while it might seem safe and comforting at the start, dwelling on the old will not help you move forward.
Be with the right support system – it is important to find a support system to be able to push you to your goal of change. Being with the old crowd that made you feel different and unaccepted is not going to help. Find people with the same goals as you and thrive!
Express your emotions – relish in the passion and love for yourself and the new changes you are going through. This is what will push you even further, as, especially in the beginning, when everything is shaky and uncertain, it is your passion and love for yourself and your own well-being that will propel you forward, to change for the better!
Change, done right, is good. Have the right mindset for change by meditating on your life, with the help of this binaural beats track for meditation and positive change.
Featured Video: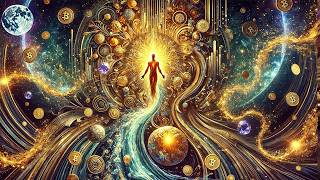 The Power of Manifestation is widely used for achieving goals, but many think that merely thinking about it is enough. It is not. Using creative visualization greatly helps to give more confidence, focus, inspiration and motivation needed to really reach your desired goals. It clears a path for you. Using Brainwave Entrainment beats that range from 6Hz – 10Hz, which are directly associated with Creative Visualization, and the binaural frequency of Mars at 144.72Hz, this supports strength of will, focused energy, and ability for achievement. The Law of Attraction nicely binds together with Creative Visualization. Change your vibration into a rich, successful, happy you. Think and Act it out towards your outer world, and experience the goodness you'll receive to your inner world.