The Effects Of Negative Emotions On Our Health
Much of our emotional experiences consist of negative feelings that, even though we try to control or hold them down, they hammer through, blustering through the brain, affecting us and we tend to think there is nothing we can do. It produces negative thoughts, feelings, and emotions. It disables us to have a positive frame of mind with what we say and do.
The negativities we absorb would become emotional blockages, becoming our worst inner-enemies, clotting our minds, keeping us from seeing, and responding clearly. In other words, they weaken our capacity to live our lives to the fullest. Negative emotions are a disturbing annoyance for anyone.
We also recognized anxiety. Anxiety is a curable condition. There are times you feel like everything is out of your control, and definitely severe anxiety is not easy to treat in the sense that you are not going to be able to quickly relieve all anxiety at once. But all anxieties are probable to be treated, provided you are willing to strive for help, avoid mistakes, and create smart decisions, and it all depends on how much you are willing to relieve yourself from those very bad anxiety attacks.
Even dark emotions that fuel the anxiety fire further, which are garnered by painful experiences, could lead people to dangerous levels of psychosis and this just shows how dark thoughts alone can lead to immense suffering. Buddhist meditation would tackle the issues of anxiety differently. It modifies your relationship to your emotions more than the emotions themselves. It permits you to see mood instabilities, moment to moment so that you can sail across and around them. The approach appears to be effective. According to psychologist Zindel Segal, meditation successfully prevented the weakening of depression in patients who have had histories of frequent mood disorder.
Through meditation, you become aware of the way emotions arise, how they can either overcome your mind or disappear without making an impact. Some people become calmer than others because of yoga and mindful meditation sessions. Some ideas include nutrition, exercise, and meditation, enjoying privacy, or even aromatherapy.
Try these ideas on how to achieve tranquility for you to become calmer and a much happier person:
SELF-LOVING – Always remind yourself frequently that it is tolerable to love and trust your self. Talk quietly to yourself. When you feel down and hear negative things about you, remind yourself that what matters is that you deserve respect and that such negative talk does not have a place in your life. Remember that everyone makes mistakes and know how treasured you are. Tell yourself daily of the good virtues, strengths, and beauty that you bring into this complicated world.
CALM DOWN YOURSELF– If you are having a conflict with someone, find healthy ways to immediately release the feelings that you have. Don't bear grudges when you are angry. Being more open and good about telling people how you really feel when you feel that way is a good start. If you can't do that, try singing out loud or in your head; any song that you always enjoy. This is a good option when you are really mad and you need to calm yourself down.
MEDITATE – Meditation is a good way to relaxing one's mind and thoughts, it is where you find yourself in a peaceful place to sit down and turn to your thoughts privately, to the quietest corner of your mind. Try to focus on the natural sounds around you and let all your doubts and fears flow out of your mind.
LISTEN TO MUSIC – Music has a very soothing effect on how we think. If you're having a hard time calming down, try some calming music. Avoid music with loud sounds or fast tempos, even if it's music you really like because this music can actually add to your stress. Just listen to mellow music when you are trying to calm down your mind.
EXERCISE REGULARLY – Let's work out our energy and tension, letting us soothe our minds expressively. It also makes us healthier and feels better generally. You don't have to lift weights or anything that will make you uncomfortable. Just do some squats and take a quick jog around the block.
The ability to manage your emotions and have a positive outlook is a good way to know yourself, even more, when you are under pressure. If you are in a nerve-racking situation and feel the need to be at ease, just simply divert your attention from the problem or take ten seconds to breathe deeply and let all the feelings sink in, before you can regret anything and think of happy thoughts.
If you try to calm your mind, listen to our Calm Music: Most Relaxing Music, New Age for Meditation, Yoga, Massage & Deep Sleep binaural beat music track and surely you will feel better as ever.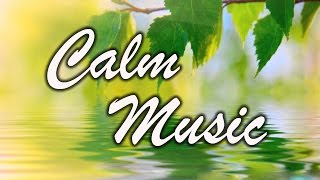 We recommend our partner SleepPhones, as the highest quality and most comfortable headphones to use while sleeping and listening to our music. Wired and Wireless options are available:
Get $5 off when you use the special "BPM5" Discount Code