The people behind Brainwave Power Music were recently engaged in a part of project collaboration with a group called Aesthetics & Therapeutics Lab, consisting of art therapist Dr. Marina Masic and media artist Jakob LeBaron Dwight, who formed to initiate experiments and installations in art and healing.
This project collaboration was held last June 2014 and the Aesthetics & Therapeutics Lab had installed their first immersive multisensory environment in the Vortex Immersion Media Dome in Los Angeles, as part of the group immersive Art exhibition MORPHOS.
What are MultiSensory Environments?
"Multi-Sensory Environments (MSE's) are artificial or enriched environments that can be configured to interface with any individual level of abilities. MSE is a "dynamic interactive process utilizing the natural process of sensory stimulation and feedback analysis from the environment." It is a designed space to interact with a person's 'Sensory diet' by utilizing Controlled Sensory Input (CSI). MSE's are devoted to all of the senses; different pieces of equipment provide visual, auditory, olfactory, tactile, vestibular, and proprioceptive sensory inputs."
Aesthetics & Therapeutics Lab conceived four modules designed to investigate different areas of functioning using Multi Sensory Environments:
Color Fields and Changes
Light and Sound Environments (LSE)
Perception: Use of Abstract Paintings for Joint Attending and Interactivity
Spa & Dream Space Consciousness
Our own music was used in their Light and Sound Environment (LSE) installation that involved light and sound therapy. The main concept for this was to stimulate healing and consciousness through the different spectrums of color, light, as well as audio and motion perceptions. Their target usage were for the treatment of Autism, Traumatic Brain Injury, PTSD, depression, OCD, anxiety, insomnia, circadian rhythm disorder, Alzheimer's and Dementia, Learning and Communication Disorders.
The Project Method of the LIGHT & SOUND ENVIRONMENTS module:
LSE is a module ATL has been working on composed of Immersive Spatial Light and Sound tracking in the environment. Applying the principles of Phototherapy, Light is a beneficial communication technology that can be adapted for healing. The principle of Sound is a second major component to this module.  By utilizing surround sound speakers in the dome Environment, as well as Binaural beats, a subtle effect of sound integrates in a 3 Dimensional experience.  Incorporating MSE principles of directing the viewer's engagement to follow various ambient sounds in different space works to promote spatialization awareness and a greater sense of proprioception.

Additionally, Binaural Beats and isochronic tones for brainwave entrainment will also be integrated to explore effects of vibratory technology.
The video below is the full-length version that was used in ATL's project: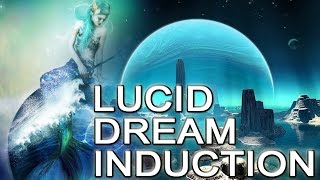 We do believe that color and sound plays an important role in the balancing and healing of our individual mind and bodies. Such with interior decorators who recommend certain color spectrums for different types of rooms to correctly exert the needed mood, sound offers a similar auditory healing aspect, and we were very excited to be a part of this project.
We hope that more artists, such as Marina and Jakob, will continue to flourish in their arts and exhibitions, and hopefully awaken and engage more audiences about the mysterious healing aspects of lights and sound as we, ourselves, continue to create more sound therapy music using binaural beats and isochronic tones and provide everyone the type of auditory healing that would resonate well with them.
We recommend our partner SleepPhones, as the highest quality and most comfortable headphones to use while sleeping and listening to our music. Wired and Wireless options are available:
Get $5 off when you use the special "BPM5" Discount Code